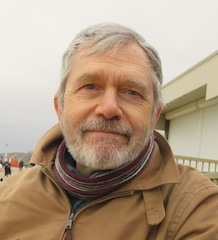 I began practising yoga and meditation in the mid-1970s. Following several years of living and working in Buddhist communities in London, I was ordained into the Western Buddhist Order (now known as Triratna) in 1981 (with the name Prajñananda). Subsequently, I studied theology and religion at Bristol University, trained as a teacher, and led classes and courses for many years at Buddhist Centres in London and Bristol, as well as leading events at retreat centres in the UK and Europe. During this time I attended many meditation retreats and studied with other teachers. I still occasionally teach in a Buddhist context. My experience of hatha yoga is mainly in the Iyengar approach, but has been significantly influenced by other teachers. For me, 'personal development' has always been about bringing together awareness of mind and body. The 'secular mindfulness' approach blends these elegantly and effectively. Teaching mindfulness courses and events over the years has been hugely rewarding; I have seen so many people finding new ways of being in their lives.
I trained with the Centre for Mindfulness Research & Practice at the University of Wales Bangor, and also with Breathworks, which specializes in applying mindfulness to living well with conditions of chronic pain and illness. In addition, I have studied mindfulness-based approaches in healthcare at the University of Exeter and, following further training in supervision, I am an Associate and Supervisor with the Mindfulness Network. Over the years, I have also contributed to the programme at the OCD Therapy Clinic in Tiverton; been part of a team at Bristol University School of Community Medicine working on a study of mindfulness (MBCT) for patients with COPD and/or asthma and co-morbid symptoms of anxiety and/or depression; and been a mindfulness consultant on a project developing a web-delivered intervention for emotional distress, run by the Primary Care Research unit at the University of Southampton. In 2017 I also completed teacher training in MBCL (Mindfulness-Based Compassionate Living).
As well as experience of living in communities small and large (from 5 to 25 people!) over many years, I have also lived on my own and as a married householder and dad.  I currently live with my partner Catrina in Exeter, where I moved five years ago. I still enjoy exploring the city and surrounding coast and countryside.
About 15 years ago, I was diagnosed with a "non-malignant" brain tumour: an acoustic neuroma or vestibular schwannoma. From being somewhat inconvenient at first, this has become more limiting for me. The symptoms include tinnitus; a disturbed sense of balance (vertigo); and a bodily and mental fatigue that can make it hard to sustain attention on external activities (or sometimes anything at all). These symptoms all vary a lot in severity – which is obviously good news in one way as some days my experience is mainly quite stable and pleasant, but frustrating in another way as it is so unpredictable. For a while now I have tracked the effects of the elements of daily living – sleep and rest, exercise, interaction with others, meditation practice, and so on – hoping to arrive at a routine that supports more stability. While all this has helped my overall quality of life, it hasn't made it any more reliable. This ongoing uncertainty makes it hard to plan events or activities. The treatment options all carry uncertain outcomes, both positive and negative, and, as surgery is not at present necessary for survival, I have been advised to manage as best I can for the time being. It is my good fortune to have several decades of practice in buddhism, yoga, and mindfulness, as well as the support of family and friends – all of which help in many ways: in tolerating and finding interest in my experience; cultivating a broad perspective, a sense of a bigger picture; and appreciating with gratitude my many blessings …